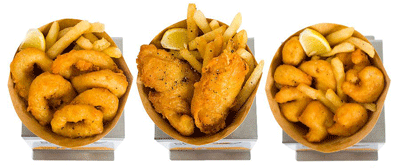 The Philippines is in the throes of a food frenzy. New restaurants are opening everywhere, with all kinds of cuisine aptly represented — and with each plate promptly Instagrammed, devoured and tweeted or blogged about. Food carts and kiosks are also swiftly taking over malls and lifestyle markets/venues, and food trucks tirelessly roam the streets (and park in places like Cucina Andare).
ADVERTISEMENT - CONTINUE READING BELOW
This boom in the food industry will definitely attract aspiring entrepreneurs, but may also lead to several big issues and unreasonable expectations, especially for people who don\\\'t do their homework. We think that the best way to learn is to seek help from those who\\\'ve already gone on the path you want to take. Entrepreneur Philippines contacted Enrique Valles, one of the owners of Chuck\\\'s Grub, a fish-and-chips business that now has three kiosks and three sit-down establishments called "Chippy Shops." He has kindly answered all our questions about his business venture, and also threw in valuable advice for those thinking of opening their own food business.
Entrepreneur Philippines: How did you come up with the name and concept for Chuck\\\'s Grub?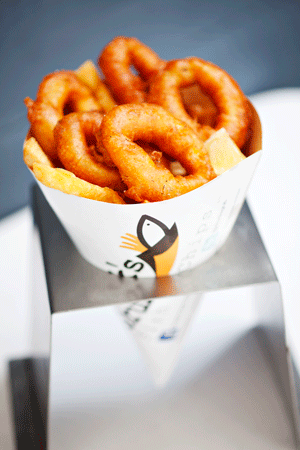 Enrique Valles: My wife and I were still dating when we decided to set up the business. One of her friends repeatedly called me Chuck as she said I looked more like a "Chuck" than an "Enrique," so we decided to use the name.
ADVERTISEMENT - CONTINUE READING BELOW
Initially, it was supposed to be called "Chuck\\\'s Chippy", but we later decided the name "Chippy" had too close an association with the snack we all grew up with. "Grub" was a better alternative as it turns out, since it is part of British slang and best fits the description of what our food [is].
What sets it apart from other fish-and-chips establishments?
As far as we are aware, we are the only full-fledged original style Fish & Chips shop in the country. Therefore, in that sense, we are already unique.
More so, the variety of fish we have on offer is our true unique selling point. We have access to a large variety of seafood which we slowly incorporate into our menu, depending on how it\\\'s received by our customers. Each fish variant has a different flavour and texture profile, giving our customers a whole range of experiences each time they come back.
ADVERTISEMENT - CONTINUE READING BELOW
We put a lot of emphasis on the preparation of our signature batter (we use a beer batter taken from a traditional British recipe I learned when living in the UK) and are committed to only the best-quality ingredients. We prepare our fish and batter fresh in store every day; nothing is pre-done or shortcut.