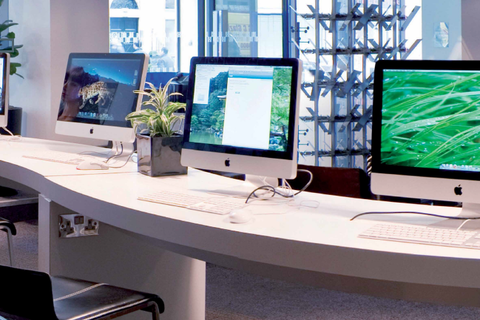 <>One of the major challenges that small business owners face is the need to establish and project a professional image upon the launch of their venture. A more professional environment is a necessity especially when there is a need to frequently meet and accommodate prospective clients.
Home-based offices would be ideal. But you surely won't like distractions from barking dogs, noisy neighbors, the television, and your kids. Traditional offices would also help bolster the motivation, drive, and productivity of your staff.
"Securing professional office space doesn't have to be an expensive proposition. There are cost-effective options like fully furnished, move-in ready offices that can help small business owners establish the professional presence they need to help legitimize their business," said Regus' regional vice president Jeff Doughman. He added, "The good news is these options are available for a fraction of the cost of leasing traditional space."
Logically, looking for office space is not as easy as it seems. There are common pitfalls that small businesses should avoid. Regus encourages every entrepreneur to consider the 'SPACE' test as a guide for him to find the right office for his small business.
S – Savings
It may be possible to save on the cost of rent. You may begin by negotiating for reduced upfront deposit, which usually comprises of an amount equivalent to several months of lease. It is also possible to save up to 60% of total costs of office space by opting for ready-to-work workstation that may already come with necessary furniture, office equipment, and maintenance services.    
P – Productivity
Consider the factors that may increase productivity of your employees. Why not consider allowing some or most of them to work from home? Some of your staff would best work in a physical office, while others may ideally telecommute from a shared office or home. By allowing employees to work remotely, your business would certainly save on overhead costs.
A – Address
Having an office address in Bonifacio Global City or Rockwell Center can definitely add an ideal level of prestige to your business. However, leasing office spaces in those business districts can be cost prohibitive. There are options that may still provide prestige without the high costs. Explore and consider those.
C – Clauses
Be sure to carefully read and understand the provisions in the leasing contract, especially those in the fine print. There are clauses in the agreement that may not be favorable to your business. Don't sign any leasing contract unless you agree to every clause stipulated in the document.
E – Expansion
As a startup, you can never be sure if there would be a need in the future to change the nature of the business. What if you suddenly need to expand or to shrink your office space? Will subleasing or sharing of excess space with other businesses be allowed?
Regus can help you explore startup office space solutions for small businesses. To reach the company, check its online directory listing here .

ADVERTISEMENT - CONTINUE READING BELOW