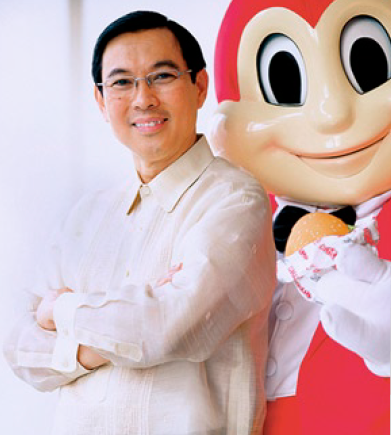 If the Philippines were to ever proclaim a national brand, it would most likely be Jollibee. The chain's big-bottomed winged mascot aside, nothing more succinctly sums up the Filipino entrepreneurial spirit, passion, and drive than the story of this homegrown brand gone global. Credit goes to Jollibee Foods Corporation's chairman Tony Tan Caktiong for steering the company to where it is now. Like any good businessman, Tan Caktiong had sought advice from experts in the beginning when he wanted to grow the family's ice-cream parlor business. Marketing consultant Manuel Lumba was there to offer him advice.

Spotting a winner

"Back in 1978, I was invited by Tony Tan Caktiong to go to what was then called Jolibe—an ice cream and soda fountain shop—located in Cubao, Quezon City," recalls the management consultant. "He wanted to know what could be done about the business," Lumba says. Having been trained across various industries like advertising, merchandising, and public relations with multinational companies, Lumba began to observe what could be done. "Watching the guests, I quickly noticed that there were leftovers when it came to certain products, but not with the hamburger sandwich. [With that] I thought the business had a potential winner."

Re-engineering a business

At that time, McDonald's and its golden arches had yet to arrive in the Philippines (they came three years later in 1981), and the concept of a full-service restaurant serving burgers was still unheard of. Over a period of weeks, Lumba began to do research on the possibility of creating a local burger joint: observing sidewalk vendors selling burgers, estimating market response, forecasting growth rates in line with the current population, projecting an imaginary price point. "And what came out was a hefty figure," he recalls. "I made the conclusion that this was an opportunity for change; it was time to reengineer not only the system but the whole business. And this was only possible by making a shift from an ice-cream parlor to a hamburger-sandwich shop."

Drawing a bee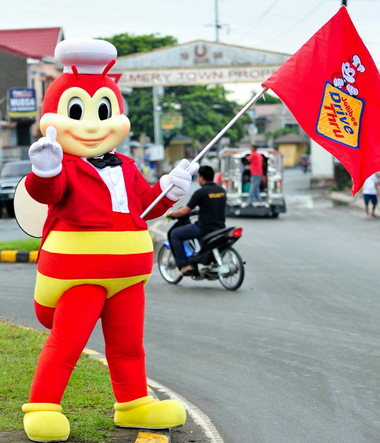 Taking inspiration from his then 6-year-old daughter's comic books, Lumba designed the first version of the now iconic mascot. "I began to draw: if Disney had a mouse, why couldn't I have a bee? Then I added a chef's hat to suggest quality food, a red dinner jacket with a vest to boot, white gloves that reminded me of Disney characters, and taking inspiration from Tony Velasquez's Nanong Pandak comic-book character, I exaggerated the cheeks." An advertising company did the finishing touches.

What's in a name?

Lumba sought to change the name as well. "Among Filipinos, Jolibe didn't ring a bell. But without throwing it away, we added another "L" and an "E" to now mean a 'jolly bee.' While it was wrongly spelled, I chose to keep it, and now we had a memorable name."

Creating an impact

It was now time to market the new Jollibee. With his advertising know-how, Lumba wrote a script for an animated commercial that aired on a Philippine Basketball Association finals match. A risk, he admits, for a then small-time burger place not even known all throughout Metro Manila. "Little did people know that I was not out to save money through judicious spending; I was out to make an impact."

And so he did. "Overnight, Manila woke up to—what seemed to many—a foreign brand." He also recommended a change of store interiors and exteriors, supplemented those with posters, and made sure that every store opening was accompanied by as much pomp and circumstance as possible—live brass band included. Jollibee had arrived.

Hail to the chief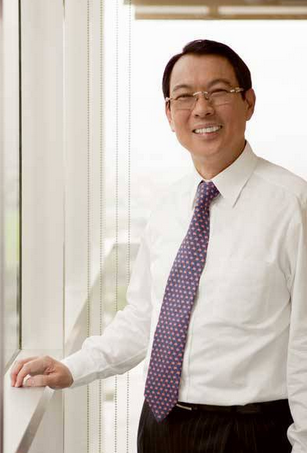 Lumba credits Jollibee's success to the leadership of Tan Caktiong. "Tony was only 23 years old or so when I met him. But already, he was equipped with the wisdom and patience and persevering attitude of a 70-year-old man. He would listen to any one who had ideas, and would casually nod as if he didn't know them. To this day, he remains the same: humble, always listening, but ready to take a calculated risk."

Up to now Tan Caktiong continues to take risks as Jollibee strengthens its overseas foray to sustain growth as the Philippine market nears saturation point. In August 2012, Jollibee said it had partnered with a Taiwanese restaurant chain to operate hot-pot restaurants in mainland China, Hong Kong, and Taiwan. This is the latest in its bid to penetrate the Chinese market, which is key to its core strategy to expand overseas. It now has thousands of stores globally, not just in the Philippines, under the Jollibee, Chowking, Greenwich, Red Ribbon, Mang Inasal, and Burger King brands.

Not bad for a business which started as an ice-cream parlor in Cubao 40 years ago.


This article was originally published in the December 2012 to January 2013 issue of Entrepreneur magazine (with updates from the editor). Subscribe to the print or digital version here.      
ADVERTISEMENT - CONTINUE READING BELOW