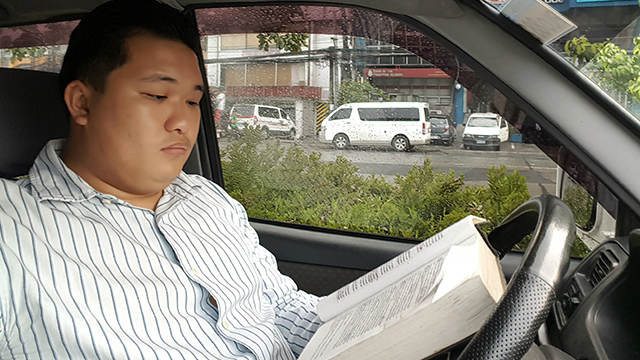 Rafael Ricalde is president and CEO of Primatech Paper Solutions. he is also a fifth-year law student at UP College of Law
Only a quarter of the 2017 bar examination takers made the cut, proving once again that not everyone is able or ready to practice law. But for 31-year-old Rafael Ricalde, attending law school is just one more thing to add to an already busy professional plate.
ADVERTISEMENT - CONTINUE READING BELOW
Ricalde is president and CEO of Primatech Paper Solutions, Inc., which manufactures paper packaging for food and beverages. Between managing employees, meeting with key clients, communicating with international suppliers, and overseeing operations, he manages to squeeze in attendance in classes at the UP College of Law, going through piles of readings and preparing for exams.
Primatech manufactures food and beverage packaging made from paper. The company's first and main product is the paper cup, which is commonly used in coffee shops and fruit stands. In response to client demands, the company diversified into coffee sleeves, sandwich wrappers, cup carriers, food boxes and other food packaging products.
In 2008, Ricalde and six partners created the company out of the need of small- and medium-sized food establishments to print their logo on their packaging. However, packaging manufacturers were typically located outside of the Philippines and required a massive minimum volume for orders. "So, we decided to import some of the raw materials and then set up the production here," he shares. The move gave them the ability to offer clients to order as low as 6,000 pieces for one paper cup size with the same design, whereas competitors required a minimum of 50,000 pieces.
ADVERTISEMENT - CONTINUE READING BELOW
Primatech was established in fulfillment of the requirements of a Leadership and Strategy class at the School of Management in Ateneo de Manila University. Ricalde and six other classmates raised an initial capital amounting to almost Php2 million, which was enough to buy two paper cup forming machines and preliminary raw paper inventory and to cover the overhead costs for the first few months. The group set up an office and a manufacturing site in Quezon City. Over the years, other partners decided to pursue different careers while Ricalde stayed on as an active leader and manager.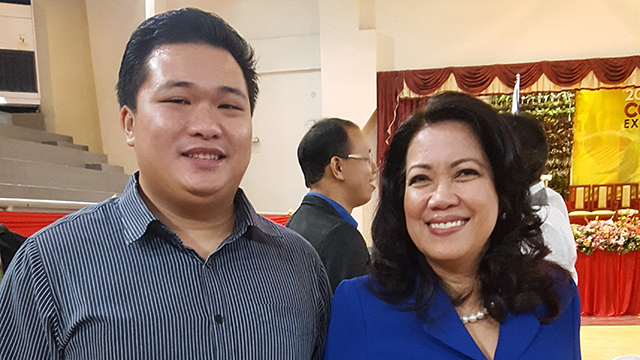 ADVERTISEMENT - CONTINUE READING BELOW
Ricalde poses with Supreme Court Chief Justice Maria Lourdes Sereno
"We were just college kids when we started the company, but we all wanted to own a business that would eventually grow into something big. It has been almost 10 years since we started but the business continues to grow. I aim to someday cater to SMEs in Southeast Asian markets."
In 2011, the company also opened a sales office in Davao City. Presently, Primatech serves over 200 clients nationwide.
Running a manufacturing company takes up much of Ricalde's waking hours. "I would say our business is in the steady income stage, but we still operate in a very competitive environment so the work is never done," he shares. Still, he decided to simultaneously pursue another dream: becoming a lawyer. He enrolled in 2013 in the UP College of Law's evening (working) student program and is now on his fifth year.
"I have always wanted to become a lawyer," he says. "Both my parents are lawyers. My mom was a professor in the UP College of Law for more than 10 years before she passed away," he shares. Beyond being a law student, Ricalde also serves as the Lord Chancellor of the UP Alpha Sigma Fraternity.
ADVERTISEMENT - CONTINUE READING BELOW
How does a Ricalde's day look like? "On a typical weekday, I go to the office and work for four hours. I use another four hours to do field work, run errands, do extracurricular work and study. My classes usually take place for three to four hours after 6 p.m. I sleep around five to six hours a day. The rest of my day is used for meal breaks and driving around Metro Manila. Traffic consumes about three hours of my day! On Saturdays, I also have classes in the mornings and also in the afternoon in certain semesters. So, on Sundays, I am usually completely knocked out and I try to catch up on sleep and personal time."
Managing time and stress is a big challenge for Ricalde. "Juggling work and law school is difficult especially during midterms and finals where a lot of time and mental effort should be placed in just reading and memorizing so much information. I cannot help it, but sometimes I need to be absent from work to prioritize the demands of law school."
ADVERTISEMENT - CONTINUE READING BELOW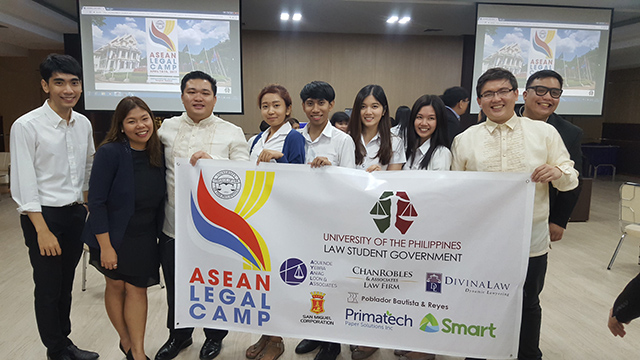 Ricalde (third from left) says studying law would help him navigate the business environment in the Philippines
While his situation is challenging—and the thought of giving up is a recurring one to him—Ricalde also keeps the upside in mind. "Knowing the law would be beneficial in navigating the Philippine business environment, and vice versa, especially labor, tax and commercial law," he shares. Understanding the law also facilitates Primatech's compliance with government requirements. "We can plan better for the long term, ensuring the business runs smoothly in the legal, financial and operational sense. I have also become very familiar with certain incentives and regulations that can help with cost-cutting within the company."
ADVERTISEMENT - CONTINUE READING BELOW
Overcoming the challenges is also possible with the support of family, friends and a reliable organizational team. "Eventually, you will get burned out. It is during those tough times that loved ones will give you the support you need to pull through. Having competent staff members also helps because they give you the confidence to delegate, allowing you time to focus on your studies."
Ricalde is an example that taking up law school while running one's own business is not impossible. "It is very possible to be good in both areas but you will have to sacrifice a lot to do so. Strength, determination and diligence are the most important traits to have because you will need to endure so much for so long as a working student in order to achieve your ultimate goal," he says.
For Ricalde, the ultimate goal goes beyond becoming a practicing lawyer who manages his own company. He is even contemplating running for public office in the long-term while working in corporate law and overseeing his business on the side. Indeed, success is not for the weak-hearted. It demands unyielding motivation and a relentless drive to challenge oneself.
ADVERTISEMENT - CONTINUE READING BELOW
*****
Chiara U. Mesiona is a Davao-based freelance business writer. Get in touch with her at chiara.mesiona.B2Bcopywriter@gmail.com