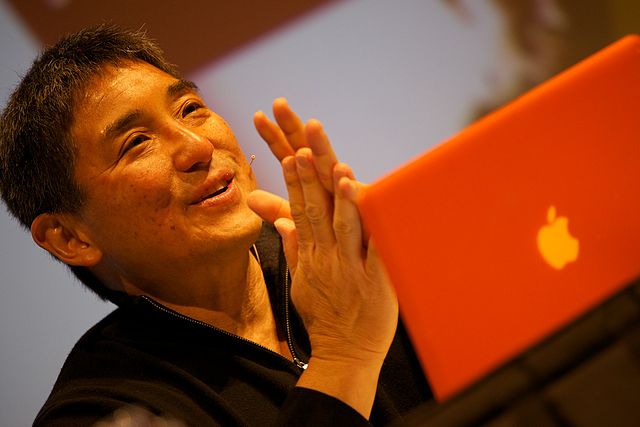 <>If the name Guy Kawasaki rings a bell to you, it could be because he used to be the chief evangelist of Apple Inc. He was actively promoting the firm's technology during a time when the brand was not yet that huge as it is today.
Kawasaki is currently the chief evangelist of another startup technology firm. He recently visited Manila as part of his goal to promote the new brand. In an occasion several days ago, he delivered a short talk about his business management insights. One of the highlights of his speech was the lessons he learned from Apple Inc founder, the late Steve Jobs.
We find it interesting to share with you the 10 things that Kawasaki said he learned from Jobs during the time he was working with Apple.
1.    Experts are clueless.
Experts are there to give advice. But Kawasaki emphasized that they can never predict the future. Don't even ask them to make decisions for your business. Consider their advice but at the same time, understand your enterprise's requirements. "Hear what the experts have to say, but don't always listen to them."
2.    Customers can't tell you what they need.
Customers can tell you how to evolve, but they can't tell you how to change the world. They can only give you an idea on how to improve your existing product. It's up to you as an entrepreneur to think way ahead of the competitors and not just improve, but innovate and offer something new.
3.    The revolution is on the next curve.

Analyze and determine what you need to provide to your customers. Have an idea of what will be the next trend, the next big thing, before your buyers do. This can give you a huge advantage over your competitors and can be the key to your business' success.
4.    Challenge big.
If you want to have big results, you need to have big actions. There is always a risk involved in business, but entrepreneurs have to strive to earn big rewards. Inspire yourself and your employees to be the best and be different from the status quo.
5.    Design counts.
A number of people might think that there are more important things in business than its design, but it can actually be instrumental in building the brand. According to Kawasaki, Jobs was a perfectionist when it comes to design and had always emphasized that most consumers care about the looks of the brand.
6.    Be bold and simple.
Always remember the 'KISS' principle – Keep It Short and Simple. When presenting a business or marketing plan, explain everything simply and clearly.
7.    Changing your mind is a sign of intelligence.
Never be afraid to change your mind. Knowing the trends and adjusting to it (even if it means completely changing your business strategy) can be vital to your company's triumph. Kawasaki recalled that there was a time when Jobs was very skeptical about apps in iPhones. Months and bits of convincing later, Jobs completely changed his mind and embraced it as the next big thing in technology.
8.    A-players hire A+ players.
Try to hire the best people for your company. If it's possible, hire people who are better than you. The goal is to create a great working environment with great employees working for you.
9.    Success is unique value.
Conceptualize a product that is valuable and at the same time unique. Only then will your company truly achieve success. It's very important for entrepreneurs to strike a balance between the two. If you have too much uniqueness, you may run out of a target market. If it has too much value, your product may have to compete on price.
10.    Some things need to be believed to be seen.
Believe in the mission and vision of your company. Believe in your employees and have faith on your product's quality. You have to convince people to believe in your brand, and the only way to do that is to believe in yourself.
ADVERTISEMENT - CONTINUE READING BELOW