In the Philippines, a name that has become synonymous with voice-overs is CreatiVoices Productions. It is a company cofounded by Pocholo "Voicemaster" Gonzales, himself a longtime voice actor.


Doing voice-overs has grown into a lucrative part-time industry due to the continuing expansion of the electronic media. "Before, voice acting was just for radio," says Gonzales. "Now there's also the Internet, PodCasts, video games, and cartoon and TV show dubbing."

The most popular of these voice-over applications, he says, are audio- book recordings, animation or TV show dubbings, original content (pre-voice recording), and radio and TV advertisements.  Voice-over talents, who are paid on a per project basis, can actually earn some P30,000 to P50,000 for doing audio books alone, which are mostly textbook translations; about P10,000 to P20,000 for radio and television advertisements ; P500 to P1,000 per episode for anime and soap opera dubbings; and up to P30,000 for original content creation.
ADVERTISEMENT - CONTINUE READING BELOW
So how does one get into the voice-over business? Gonzales says that voice-over training is a prerequisite no matter how good the aspiring voice-over talent is, and he emphasizes that doing voice-overs is not just a hobby but an art and a profession.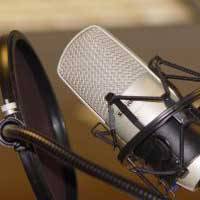 Indeed, this was why Gonzales decided in 2007 to put up the Philippine Center for Voice Acting, the first and only professional voice acting school in the Philippines. He established Creativoices itself with an initial capital of only P20,000, but it has become almost an industry by itself.
ADVERTISEMENT - CONTINUE READING BELOW

As the training arm of CreatiVoices, the center conducts a two-month voice acting program for a selected number of students using modules imported from the United States.
"When you train with us, in one day I can make you create 20 voices," says Gonzales. He says that although the center does not guarantee voice-over jobs to students who finish the program, it gives them support in landing voice-over contracts.