ADVERTISEMENT - CONTINUE READING BELOW
1.    Max Black and Caroline Channing of Two Broke Girls
Max and Caroline were on the right track even before Martha Stewart told them, "When you're in business for yourself you have to take every situation as a business opportunity." While working as waitresses, they've managed to sell Max's homemade cupcakes at the diner, catered for a gallery opening and baby shower, and pitched their business to the pastry mogul.
2.    Jerry Maguire of Jerry Maguire
Jerry's mentor Dicky Fox said, "The key to this business is personal relationship." Be thankful when you start your business with a few clients because you can focus on them more. As you foster your relationship with your clients, you build a better, more reputable business that people would want to be part of.
3.    Tony Stark of Iron Man
Tony has Stark Industries under the microscope while dabbling on things with his dirty hands. He's got himself involved and invested in the business, working all day and all night to create and develop weapons himself. With such hard work and dedication, he puts Iron Man to shame.
4.    Rob Gordon of High Fidelity
When you turn your passion into a business, it doesn't seem like you're working at all. Rob radiates inviting, feel-good energy in his secondhand record store, Championship Vinyl, that his employees stayed for the long haul. His knowledge and obsession with music is what sets him apart and keep customers coming back.
5.    Vianne Rocher of Chocolat
By opening a business that didn't sit well with the townspeople's ideology, Vianne encountered a lot of problems with her chocolate shop in a small village located in the French countryside. Instead of giving up, she focused on growing her business and creating products that the customers couldn't resist. In time, even her greatest critics were enticed by her kindness and tempting products.
6.    Edward Cole of The Bucket List
No matter what you do for a living, whether a corporate billionaire like Edward or a working class mechanic like Carter, you should learn to enjoy life while you still can. The two fostered an unlikely friendship when they met in a hospital room. Even with the threat of terminal illness, they left the hospital and decided to do the things on their bucket list before they died.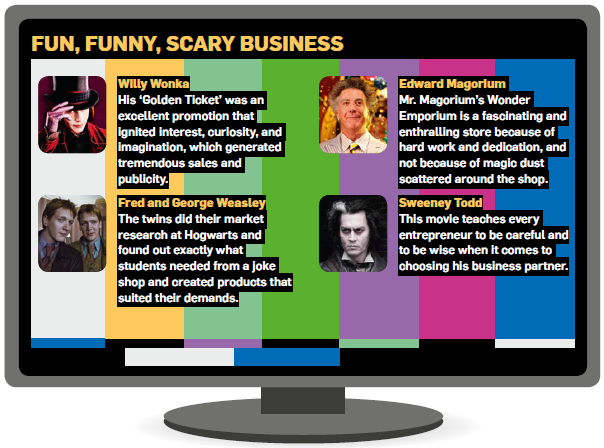 7.    Jay Gatsby of The Great Gatsby
Every entrepreneur needs to have a goal, but it's important to accomplish it without short cuts. The faster you rise, the harder you fall. Although Jay's focus allowed him to achieve great heights, he committed fatal flaws in pursuit of his goal which cost him dearly in the end.
8.    Tony Soprano of The Sopranos
The success of Tony's business is due to his leadership that values the opinion of others. When making an important decision, he asks for advice knowing that he may not always know the answer. And even with this, he still is very well respected.
9.    Don Vito Corleone of The Godfather
The first step in doing the right thing is listening. This movie showed how someone who listens intently succeeds, and how someone who talks fails. Don Corleone hardly uttered a word unless he had to. And when he did, it served as a resounding lesson to his children. His "I'm gonna make him an offer he can't refuse" is immortalized by his haunting and powerful presence.
10.    Antonio of The Merchant of Venice
Behind every successful business is a shrewd entrepreneur. Antonio carefully spread his risk through diversification but still gambles great sums on import and export schemes around the world. It shows that by managing your resources wisely, you'll know how to work around the risks and rewards of your business.
Photos courtesy of Warner Bros. Pictures (Willy Wonka, Fred and George Weasley), 20th Century Fox (Mr. Magorium), and Dreamworks LLC and Warner Bros. Entertainment Inc. (Sweeney Todd)
 
Illustration: Sonny Ramirez


This article was originally published in the September 2012 issue of Entrepreneur magazine.