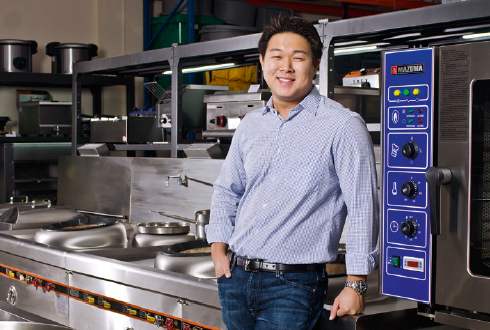 With today's high rental and construction costs, restaurant owners must be able to utilize every square inch of their kitchen, where the restaurant cycle starts and ends. Restaurateurs and chefs may know how to cook and run the business, but when it comes to kitchen design, the help of design professionals come in very handy.

"The way the kitchen is designed affects the very flow and operation of your restaurant," says Sann Michael Yu, chief operating officer of Merit Stainless Steel Inc. The company, aside from being a supplier of food service equipment, also provides clients advice on kitchen layouts, from basic floor planning to utility requirements.

Assuming the restaurateur has determined the location of his business, these are the things that he or she must consider to come up with a well-designed kitchen, says Yu.

Coverage

Ideally, 70% of the restaurant space is devoted to the dining area, and the rest is devoted to the kitchen, says Yu. The three basic issues in kitchen design are the main kitchen equipment, exhaust and fresh air ducting, and gas line, he adds. Its plumbing, wall finishing, and floor covering should be taken care of by general construction work.

Cuisine

Before hiring design consultants and getting suppliers, restaurateurs must determine the kind of cuisine they intend to serve, because it dictates the very equipment and the amount of space needed in the kitchen. For instance, American cuisine restaurants must have grillers and fryers in the main kitchen. On the other hand, a restaurant serving Asian cuisine must be equipped with woks and steamers. A Chinese-themed restaurant requires a big kitchen, given the variety of Chinese cooking techniques, based on your budget.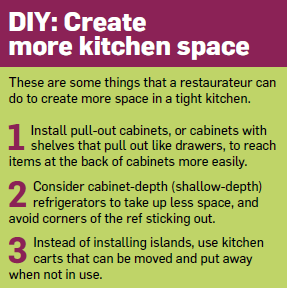 Budget

Peg a budget for your kitchen set-up. At this stage, you are ready to confer with a design consultant to help you create your ideal kitchen.

Working surfaces and areas

This will be determined by the number of people you expect to serve every day. Says Yu: "You need the right material for the right equipment. Some people, in order to save a few pesos, use wood or cement for food-preparation surfaces; these materials, however, are prone to the growth of germs and bacteria. Invest in a stainless steel surface that is also easier to clean."

After-sales support

It's important to test the kitchen equipment that you need before buying it, says Yu. Your supplier must offer a trial run and have good after-sales service. Since you'll most likely use your kitchen equipment all at the same time, you must be assured of repair services whenever you need them to avoid downtime.
ADVERTISEMENT - CONTINUE READING BELOW
Related article: 3 elements to consider when running a restaurant
This article was originally published in the March 2012 issue of Entrepreneur magazine. Subscribe to the print or digital version here.   

Photo by Kai Huang