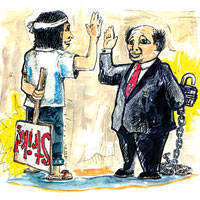 The Constitution and labor laws recognize workers' rights to strike and the employer's right to lock them out.
However, no labor union may strike, and no employer may declare a lockout, on grounds involving inter-union and intra-union disputes. A strike or lockout is valid only in case of a collective bargaining deadlock—or unfair labor practices by the employer or the union.
THE RIGHT TO STRIKE
Citing the authoritative Ludwig Teller, lawyer Cesario A. Azucena Jr. says any one of the following elements can make a strike illegal:
it is against a specific prohibition of law, such as a strike by employees performing government functions
it violates a specific requirement of law
it is declared for an unlawful purpose, such as inducing the employer to commit an unfair labor practice against non-union employees
it uses unlawful means in the pursuit of its objectives, such as terrorizing non-strikers
it is declared in violation of an existing injunction
it goes against an existing agreement, such as a no-strike clause or conclusive arbitration clause.
Before going on strike, workers must do the following if they want their industrial action to be valid:
file a valid Notice of Strike with the Department of Labor at the regional office of the National Conciliation and Mediation Board