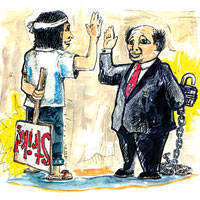 <>
observe a cooling-off period. The cooling-off period is 30 days in case of a bargaining deadlock and 15 days in case of unfair labor practices. However, workers may ignore any cooling-off period if they are threatened by union busting or any illegal activity by management. It is during this time that the conciliation board tries to mediate between labor and management
hold a strike vote by secret ballot. If the majority of the union members authorize a strike, the union must file a 24-hour notice of the strike with the mediation board. (Similarly, a lockout needs the approval of the majority of the directors or partners of the company.)
report a Strike Vote to the mediation board at least seven days before the intended strike, subject to the cooling-off period.
Workers often cite union busting as their reason for striking. According to Azucena, union busting exists when union officers are being dismissed; those officers were duly elected in accordance with the union's constitution and by-laws; and the existence of the union is threatened. In this case, no cooling-off period is required of the union before it strikes, but it must still file a notice of strike, take a strike vote, and submit the strike vote report.
ADVERTISEMENT - CONTINUE READING BELOW
THE RIGHT TO LOCK OUT WORKERS
If labor has the right to strike, management may declare a lockout—"the temporary refusal… to furnish work as a result of an industrial or labor dispute"—provided it is lawful. Strikes and lockouts essentially are the same in that they both result in work stoppage, and arise from a labor dispute. As a result, the rules on strikes apply equally to lockouts: management may declare a lockout in case of a collective bargaining deadlock or unfair labor practices by the union.
However, a lockout by management is valid only if:
it has filed a notice to declare it with the Department of Labor
at least 30 days have elapsed since its filing of the notice before it declares the lockout
the collective bargaining talks with the union have reached an impasse
the lockout is not discriminatory.
As with worker strikes, various Supreme Court decisions have upheld the employer's right to lock out employees if it is necessary to preserve company property or the management's bargaining position. Strikes and lockouts are powerful weapons if used properly and damaging if abused. It is enough for labor and management to realize that they have options under the law to ensure self-preservation if their rights and security are threatened.
ADVERTISEMENT - CONTINUE READING BELOW