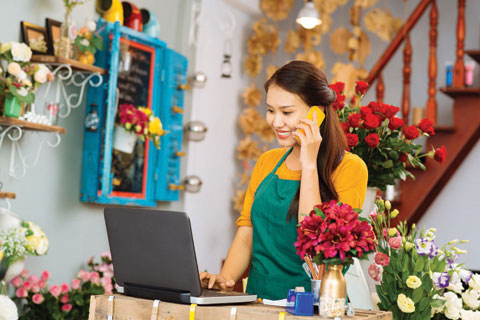 <>
As business owners know, to be on the map, their business has to be easy to search for and easy to reach in every way possible. Entrepreneurs often think that simply marketing one's service or product is enough for it to sell on its own. But without the proper means for customers to get in touch with you, all the marketing efforts may be in vain.
More than advertising your business, make sure you also announce how potential customers can find you. A telephone number, e-mail address, and website assures customers that they can easily contact you.
A landline number means sales and service
A business truly dedicated to customers provides a way to be reached that essentially does not cost customers anything extra. With a landline number, this is achieved. Customers habitually call business landline numbers for further clarifications and questions, or even better, for purchases. Sometimes these types of conversations tend to require more time.  And having a business landline number gives customers an affordable way to reach businesses. A landline number serves as a safeguard against missed opportunities. If a buying customer only has access to a landline, a business with its own landline number will encourage the sale.
ADVERTISEMENT - CONTINUE READING BELOW
A landline number gives legitimacy
Putting a landline number right next to your business name can also help make customers feel more confident about your business. It's like saying this business is not a fly-by-night operation. Having a landline number can give your business a sense of legitimacy. Think of it as a way of gaining your customers' trust.
A webpage is your new storefront
The internet is now one of the biggest platforms for commerce, and every business should have its own webpage. Having a page you can truly call your own allows you to customize the look and feel of your business. It establishes who you are and what you have to offer. With your own webpage, potential customers can easily find your business when they search for a product or service that you offer.
A mobile phone makes sure you stay connected anytime, anywhere
Because entrepreneurs must also be mobile, a mobile phone is a necessity for one to conduct business anytime, anywhere. Investing in a postpaid plan means you get more - consider the inclusions that will help you become more productive and efficient without having to worry about balances and restrictions.
ADVERTISEMENT - CONTINUE READING BELOW
With the many communications options that customers use today, a total communications solution is essential to business success. Now, every Globe myBusiness subscriber will have multiple communication options at their fingertips, namely: text, mobile calls, data, and their own free landline number and webpage.
Starting this January, new Globe myBusiness Postpaid Plans come with a FREE Duo Landline and Webpage (30-day trial) as  part of Globe myBusiness' commitment to serve and support the needs of businesses. To apply for a new Globe myBusiness Postpaid Plan, visit any Globe Store, go to mybusiness.globe.com.ph/mybusinesspostpaidplan or call its dedicated hotlines at (02) 730-1010 in Metro Manila and Luzon, (032) 401-1010
(032) 401-1010 in Visayas and (082) 321-1010
(082) 321-1010 in Mindanao.

ADVERTISEMENT - CONTINUE READING BELOW