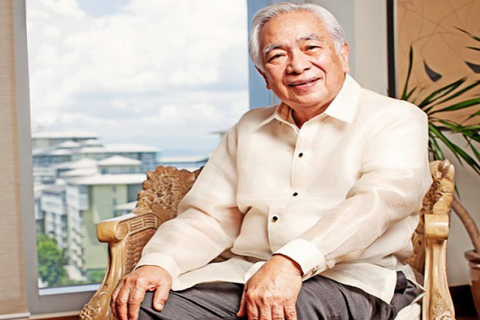 Menardo R. Jimenez, 81, is well past retirement age, but shows no sign of slowing down. He still comes to work at 9:30 am, leaves at 7 pm, and believes in keeping busy even on holidays. He still oversees the operations of 12 of his businesses, under the Majent Group, even meeting the presidents of the companies twice a month.

It's not as if he needs the money. Forbes estimates Jimenez's net worth at $265 million, making him the 27th richest man in the Philippines. He's just wired with a solid work ethic that idleness is not in his vocabulary.

It's one of the reasons why he was able to turn around the operations of GMA Network Inc. when he was still CEO of the media company and why he sits on the board of several companies, including diversified conglomerate San Miguel Corp.

Here are more reasons for his success.


Be hands-on.

Even as a young entrepreneur, Jimenez was hands-on in his businesses—literally. "You should be personally involved in any business you start," says Jimenez. When he started exporting macramé bags to Japan at the age of 30, he and his wife measured each bag—20,000 pieces in all—to ensure the bags meet quality standards before getting packed and shipped.

When his Japanese clients asked Jimenez to outsource abaca rope, he went to Navotas himself to look for supplies. Since the required length is 1 m, Jimenez had to cut the rope and bundle them himself. "If you want to start from something, see to it you know how it works. You save a lot when you do it personally."
ADVERTISEMENT - CONTINUE READING BELOW

Look before you jump.

In 1974, Jimenez, together with his brother-in-law, Atty. Felipe Gozon, and Gilbert Duavit Sr. acquired shares in Republic Broadcasting System, which later became GMA Network. Jimenez was initially asked to serve as president, but he declined. "I didn't know anything about media." Instead he focused on what he believed was his strength—numbers. Because he was a certified public accountant, he volunteered to handle the company's finances at the onset. "In business, the most important thing is finance," he says.

He only agreed to become president seven months later. Turning around the network was a monumental task as the company was saddled with P6 million in debt and payables to foreign suppliers of entertainment programs. And out of seven stations, GMA was dead last. But Jimenez strove to turn around the network and succeeded. He recalls taking out a P10-million loan from PCI Bank to get the network started and pay for its obligations. He then started bringing in foreign shows like "Charlie's Angels", "Mission Impossible" and "Rich Man, Poor Man," shows which attracted more affluent viewers and advertisers.
ADVERTISEMENT - CONTINUE READING BELOW

Small things matter. 

The first action he took at GMA when he took the helm was requiring employees to surrender used-up ballpens before they were issued new ones. It seemed trivial, but for Jimenez, small things mean a lot.

Give back.

But for Jimenez, it is not just about entertainment. He did not forget to give back. Public service programs such as "Kapwa Mo, Mahal Ko", "Agrisiete" and "Negosiete" were added. After three years, GMA's bottom line was back in black; and it has been making profits since then.

Trust in the Lord.

"Every time I plan something I always ask the Lord, 'What do You want me to do?'" This has been Jimenez's guiding principle. One that helped him reap dividends throughout his 26 years as chief executive of GMA Network and as head of his companies.
*****

Photo: Dairy Darilag

This story was originally published in the August 2013 issue of Entrepreneur magazine.

Subscribe to the print or digital version of the magazine through following this link.
ADVERTISEMENT - CONTINUE READING BELOW