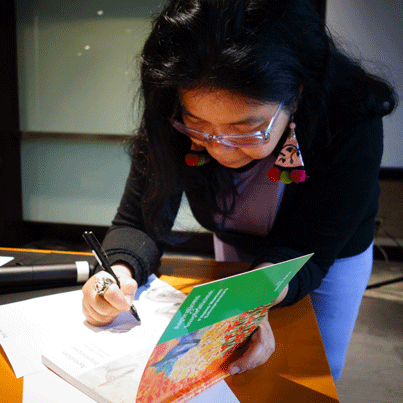 The Women\\\'s Council of the Philippines (WomenBizPH) and the SGV Foundation just launched a book on the women who won the Ernst & Young Entrepreneur of the Year Philippines program. The book called Aspirations and Inspirations was written by editor and newspaper columnist Jessica Zafra based on interviews with the 42 women who have won the award since 2003.
ADVERTISEMENT - CONTINUE READING BELOW
The Woman Entrepreneur of the Year award has been an integral part of the Entrepreneur of the Year Philippines program since it was launched. Program director, Atty. Antonette Tionko believes women entrepreneurs have a special gift. "Aside from having innate business sense, these women also show the power of compassion," she says. "They have the ability to understand people and work within the dynamics of family, business and society."
The book cover was designed from paintings by WBCP member and tax lawyer, Benedicta Du-Balabad, who gladly gave permission to WBCP to be able to use her artwork for the book.
The WomenBizPH was formed in 1997 by President Fidel Ramos and the Department of Trade and Industry to be an advocacy group to suggest legislation empowering women in business wanting to expand to bigger markets. The group is currently led by Aurora Garcia of CiBA Capital and Chit U. Juan of the Philippine Board Inc. and the ECHOstore Group.
ADVERTISEMENT - CONTINUE READING BELOW
The book will be available from SGV and WomenBizPH offices. For inquiries, call (02) 813.1028 or email wbcphils@gmail.com.
Photo by Rocel Junio