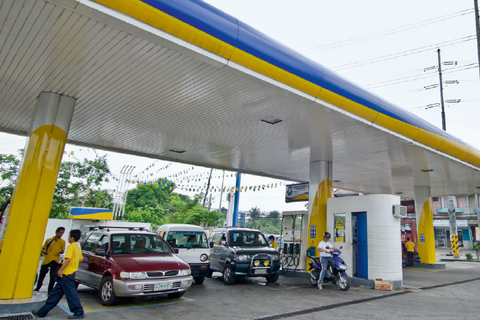 Growing up in a family of successful gasoline dealers, Engr. Oscar "Choy" Cammayo Jr. is not new to the fuel industry. His familiarity with the petroleum business and his innate entrepreneurial spirit encouraged him to jump into franchising a gas station of Seaoil, the country's leading independent fuel company.

Cammayo sees Seaoil as "the Jollibee of the fuel industry" in terms of hospitality to Filipino consumers, and is taking his own steps to reaching the success of the homegrown burger-and-chicken chain. In November 2011, he was named Overall Franchisee of the Year in Seaoil's first Sinag Awards, an event where the Filipino-owned oil company honored its business partners.

With almost five years of withstanding business challenges under his belt, Cammayo shares with ENTREPRENEUR just how he did it.

Balancing act

Investing almost P5 million for his franchise, Cammayo took over Seaoil's Tandang Sora gas station (in Quezon City) in 2007 from a previous dealer. During that time, he also had a foundering local restaurant franchise, and the gas station had to subsidize its losses.

Such a setup only allowed him to reach his return on investment with Seaoil in three years. "If there was no local restaurant franchise that I needed to subsidize, I would have reached my ROI in roughly 2 years," Cammayo says.


He also saw the need to understand the gas station's operations to manage it better. "I started as a pump attendant, then a cashier, then a supervisor," he shares. "I had no experience in handling personnel before, so I did some research, surveyed other dealers, and observed other stations." The training he took helped him become a better hands-on manager and evidently paid off with his strong franchise as well.

Managing capital

With diligent money management, Cammayo got the drift of how to manage his capital strategically. "Revolving my capital was a challenge especially when I was just starting, so I had to add some key account clients to attain higher volume sales. Also I had to maximize Seaoil's marketing promotions and strategies," he recalls.

Cammayo makes it a point to separate his business expenses from his personal costs to keep track of the station's cash flow. He does, however, draw his personal allowance from his business income.

Not relying entirely on his business instincts, the engineer also takes advice from his father and an accountant, from overall business strategies to maximizing profit and minimizing losses. For instance, while Cammayo understands the need to have key account clients, he strengthened his cash position by being proactive with them. He explains: "I require them first to post a cash bond, then ask them about their average consumption. It's for [financial] security purposes, and also so my revolving capital wouldn't increase."

Managing performance

Much of Cammayo's attention to his station's performance is not only because of his passion for customer service, but also due to Seaoil's stringent performance audit of its franchises. "Seaoil has standards and we just implement them," he says. "The company regularly audits us to check if there are deficiencies in our operations." For instance, the company can point out that the franchisee has a dirty station, or has attendants that are not properly groomed.

As much as possible, Cammayo says he also steers his station staff away "from repeating the same mistakes" and makes sure they continue whatever Seaoil points out as a positive practice. One such practice, which won for the engineer the Overall Franchisee of the Year award, is the efficient queuing system of his Tandang Sora station.

"In supermarkets, the primary observation that I made is if there's no attendant in each lane, the customer will be impatient," explains Cammayo, which led him to create a method to prevent gridlock at the gas pumps, thereby reducing the lead time per customer.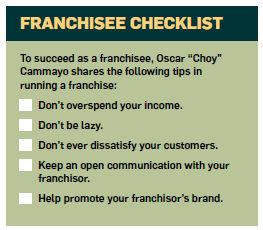 "Basically, I provide an attendant for each pump so there would be no queue," he says. "If there's a line, it's because the attendant is still attending to the current customer. We'll just ask our waiting customers for their orders, guide them with safety measures, and while gassing up, we offer secondary services like under-the-hood checkup. Ideally we should transact with our customers for 3 to 5 minutes at a time."

So what's next for Cammayo? He plans to maximize the space of his gas station by possibly opening an LPG store and franchise another Seaoil station. "From being a technical professional, I saw myself becoming a legitimate businessman and even the top dealer for Seaoil," he says. "Now, I hope to manage another station."


ADVERTISEMENT - CONTINUE READING BELOW
Photos: Kai Huang
This story was originally published in the July 2012 issue of Entrepreneur magazine.