For the past few years, big data has allowed businesses to harness information to produce insights that can lead to actionable solutions and strategies. 
ADVERTISEMENT - CONTINUE READING BELOW
Whether it is in healthcare, retail, or even politics, big data is being used to improve services and create quality customer experiences. And the impact of big data on industries cannot be more pronounced than in agriculture, where information is needed by farmers to make around 40 to 50 crucial decisions every growing season.
Monsanto Philippines, the local arm of biotechnology firm Monsanto, shares the ways by which big data is modernizing agriculture.
Big data for big decisions
When applied to agriculture, Monsanto Philippines says that big data helps farmers make big decisions. Every growing season, farmers need to make crucial decisions based on different challenges. Will typhoons strike? Will it be a dry season? And how can they best protect their crops from pests? These farming decisions involve huge risks. Not only do farmers need to adapt to changing weather patterns, especially in the Philippines where typhoons are prevalent, but they also need to make the most out of their land and water resources.
ADVERTISEMENT - CONTINUE READING BELOW
But as technology advances, so do farming practices. Through research, crops are now more resistant to diseases. Farming tools and equipment can now fully automated. Fields can now also be equipped with satellites, radars, plant sensors, and local weather stations which can analyze what is happening in a particular patch of land. Things like temperature, soil conditions, plant health, and even rainfall can now be measured and monitored by farmers in real time. This data can then be translated and transferred to web-based software and mobile apps that the farmers can easily access. 
Increasing land productivity
This infographic, courtesy of Monsanto Philippines, further illustrates how big data is innovating the way we produce our food.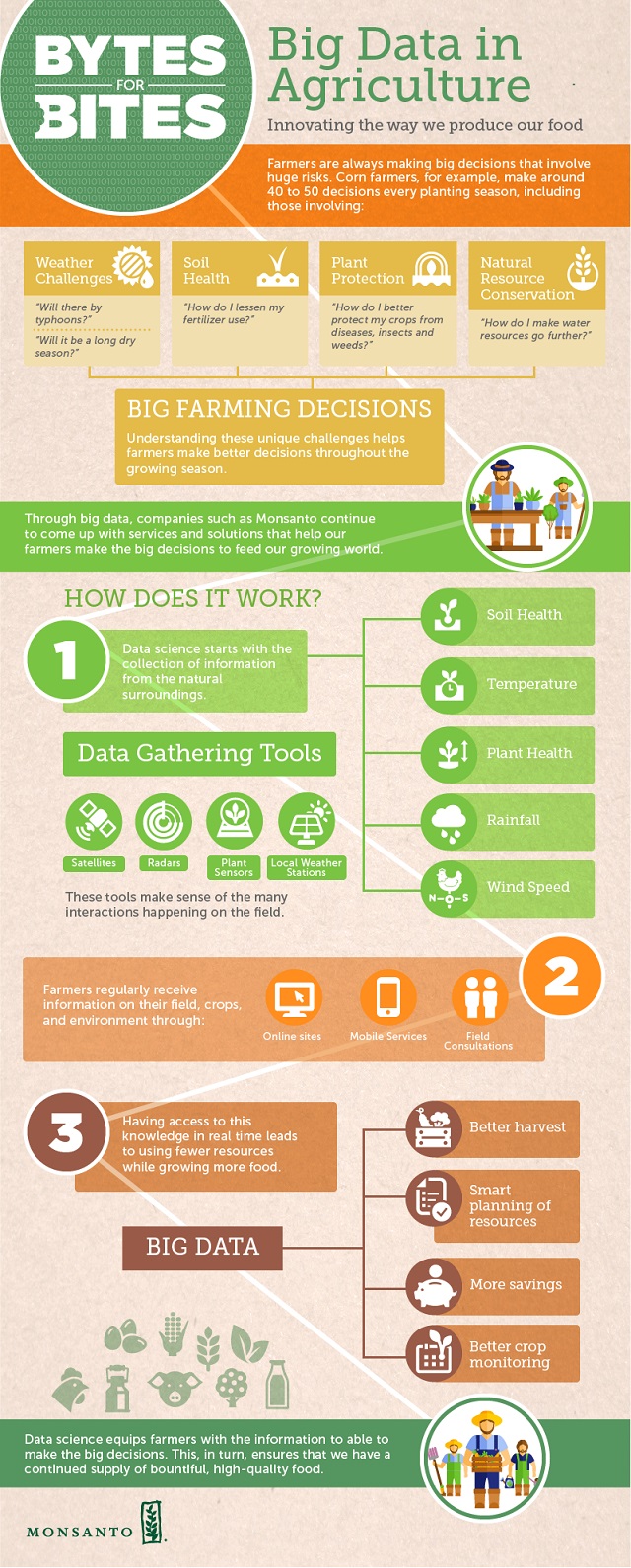 ADVERTISEMENT - CONTINUE READING BELOW
By harnessing big data, farmers can now make decisions that ultimately increase land productivity. "By putting valuable information into the hands of our farmers, we help them become more productive on each hectare of their land," added Monsanto Philippines.
Farmers can now use smartphones and tablets to access data that can help them make decisions as to which seeds should be planted on which part of the field, when to plant, and how much fertilizer should be applied.
And through big data, farmers can now better understand the unique conditions and challenges that can be found in their field, allowing them to make the most out of every harvest.