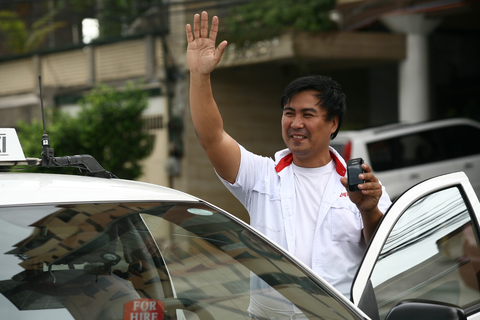 <>Do you need to hire a taxi so you can go to your next business meeting in another location? You don't have to go out and endure the dust, smog, scorching sunlight, or torrential rains outside. You can book a cab just by staying in the comfort of your office or home. It is now possible if you use any of the taxi booking apps available today.
Download such applications on your smartphone and experience the convenience and comfort of hiring a taxi faster and online. There is no need to call any hotline or get enlisted in a long list of waiting passengers at your building's lobby. You can instantly grab the nearest registered taxi to your location through any of these two mobile services.
GrabTaxi
GrabTaxi claims to be the 'largest Southeast Asian taxi booking service.' It is currently operating in four other countries in the region aside from the Philippines---Singapore, Malaysia, Thailand, and Vietnam.
Locally, the service was launched in January 2013. So far, it has been working with about 100 taxi operators across Metro Manila and a few in Cebu City. It is estimated that about 500 to 1,000 taxi units are deployed for the service each day. According to managing director Brian Cu, "GrabTaxi is a network. It works with operators and provides them with solutions."
"With the blessing of the operators, we deal directly with the drivers." The company then finds it a bigger challenge to introduce the drivers to the use of the technology and to train them for better customer service practices. Before that, the company subjects those drivers to a screening process to make sure they are getting the best and most trustworthy ones.
Aside from the short training, GrabTaxi provides micro-financing so drivers can afford to buy the smartphones, which facilitate direct and instant connection between them and their prospective passengers. They are required to pay a minimal amount on a regular basis for a year to cover the subsidy initially provided by the company.
For the device, GrabTaxi chose to use CloudFone after deliberating several other options in the market. Aside from the practical cost, the handset is also equipped with GPS, which is an important factor in daily operations. For online 3G connectivity, the service formed an alliance with Globe Telecom, although drivers are required to shoulder minimal fees required to keep online connections.
GrabTaxi asserts that their drivers can possibly generate between P800 and P1,000 each day on top of their regular revenue from fares. The service also helps make sure that the drivers book more customers within a day.
Easy Taxi
Easy Taxi was a Brazilian startup owned by businessman Taliz Gomez before it was acquired by Rocket Internet, which sets itself as the biggest Internet incubator in the world. The business stands out from more than 70 ventures owned and operated by the conglomerate because it is so far the only one that is not an original creation of the company.
Within 18 months after Easy Taxi was acquired by Rocket Internet, it now has presence in 26 countries across Latin America, the Middle East, Asia, and Africa. Southeast Asia is a main focus of the business, where it also operates in Hong Kong, Singapore, and Malaysia.
In the Philippines, Easy Taxi was launched in July 2013. Since then, it has formed exclusive partnership with over 30 major operators, with a total of about 1,000 taxi units deployed every single day. Easy Taxi units roam across Metro Manila and some in Cebu City.

According to Mario Berta, regional managing director of Easy Taxi in Southeast Asia, the business' initial goal is "to make sure all the good drivers are there to serve us." Thus, he disclosed, "We spend a relentless amount of time and money to educate and train our taxi drivers."
Easy Taxi requires its drivers to attend about two to three training sessions. "Day 1 will be about the use of the smartphone and app," Mario revealed. The rest of the sessions cover all other aspects of customer service. Easy Taxi also micro-finances the handsets given to the drivers. It collects P150 per week from them for about eight months.
The business is more conservative on its projection for drivers' added income. Mario thinks that each of their drivers can earn an additional P300 to P400 of income on top of their regular revenue generated the whole day. That translates to about 60% to 70% of every driver's normal daily income.
Easy Taxi gives more options to drivers in terms of smartphones it provides them. Available choices are specific handsets from Alcatel, MyPhone, and Cherry Mobile. The service uses Smart Communications' mobile wireless connection.
Mario added, "Our ultimate objective is to connect drivers and passengers."  He also reiterated that the business prioritizes overall safety and well-being of its customers. This is why Easy Taxi maintains a 24/7 customer service to make sure all issues and complaints are resolved immediately.
Common services
The business models of both GrabTaxi and Easy Taxi resemble each other, although there could be slight differences in specific aspects. The app for GrabTaxi supports devices operating in iOS 5 and higher, Android 2.5 and newer, and Windows Phone 8. Easy Taxi app can be downloaded by users of iPhone 3G and the newer iPhone models. It also supports Android 2.5, BlackBerry 10, and Windows Phone 7 and 8 users.   
To use both services, download their respective apps in your smartphone. Open the application when you need to book and hire a taxi. Aside from the advisory you will obtain from the app about your booked taxi unit, the driver might also communicate with you through your registered mobile number, if needed.
The service is that easy. GrabTaxi and Easy Taxi drivers will find and pick you up wherever you are in the metro. Both companies charge a booking fee of P70. That is the premium for ensured safety, convenience, and excellent customer service.
ADVERTISEMENT - CONTINUE READING BELOW